Porcelain Veneers
If you had a magic wand and could change one thing about your smile… what would you change? Dr. Jared Waite performs smile makeovers to give his patients the smile they have always dreamed of. To achieve such a smile makeover, natural looking porcelain veneers, a dramatic breakthrough in cosmetic dentistry, are often used. Dental veneers will successfully correct gaps, chips, excessively small or large teeth, discolored or "antibiotic" stained teeth, or even straighten misaligned or crooked teeth in as little as few visits.

Porcelain veneers are used to help create an "instant" new smile. The actual veneer is an extremely thin casing of ceramic that Dr. Jared Waite bonds to the front of your existing teeth—teeth that may be irregular in size, shape or color or are just not cosmetically appealing to you. Once bonded, the veneer becomes very strong, much like ceramic tile that is bonded to the floor, but better. While custom designing your veneers, Dr. Waite pays careful attention to your surrounding teeth to ensure that your veneers will complement your overall smile. The result is a beautiful, natural and attractive new smile.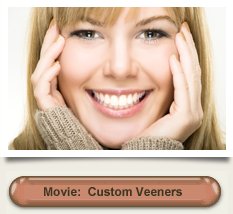 Contact Aspen Ridge Dental Care, Cosmetic Dentistry in Colorado Springs today to learn more about our cosmetic dentistry options at 719-282-3400. Schedule an appointment today and get a for a free cosmetic dental consultation with our expert cosmetic dentist.